Inheritance of Art and Traditions
During the full flowering of the Mexican Muralist Movement, the first glass mosaic factory in America was established; founded by the Perdomo family.
The purpose of the factory was to provide artists and architects with top quality products and art of the designs. Today, more than one hundred world-class mosaic artists and technicians work at the MVM studios, continuing a traditions of artisanal excellence handed down  by the Italian artist and Mexican artisans and technicians who founded this company with the sole intention of bringing the client's personal vision to fruition.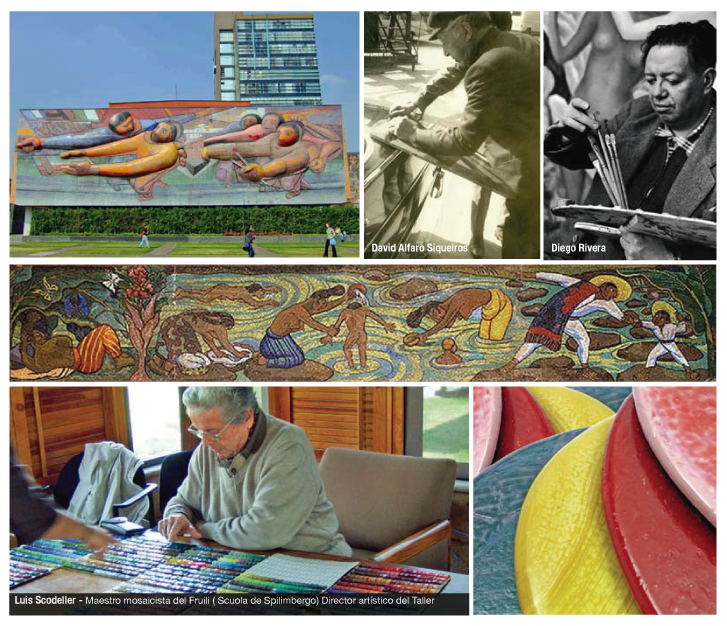 The constant implementation of new ideas and technologies in the search for top quality and richness of color has been the essence of MVM as a manufacturer of materials for artists. MVM has consistently maintained a creative relationship with artists such as Diego Rivera, David Alfaro Siqueiros, Francisco Eppens, José Chávez Morado and other plastic artists who were fundamental figures in the Mexican Muralist Movement; as well as with leading international contemporary studios and mosaic artists such as Marco Bravura from Ravenna, Franz Mayer of Munich, Mosaika – Canada, Spilimbergo Mosaic School in Italy, Dong In Park of Korea, and the Society of American Mosaic Artists (SAMA).
The technological innovation and artisanal sensitivity characteristic of the Perdomo Family Studios lead to the creation of products recognized worldwide for their essential quality. Through the application of in-house technology, local raw materials are blended with the original glass and smalti formulas to produce an abundant richness of colors, variety of forms, and wide range of technical and creative possibilities to suit the design's specific needs.
MVM-STUDIOS is the fusion of two cultures that give life and a new identity to mosaic art, a business vision merging tradition and innovation. Mosaic artistry and glass technology interpret the essence of each project with sensitivity and richness of color, effecting a harmonious integration with design and architecture. At the heart of MVM lie the dedication, ability, knowledge and passion of its people who are committed to the creation of mosaics of unequalled beauty and incomparable refinement.
1200
Colores de Nuestros Catálogos
800
Toneladas de Mosaicos al año
18
Artistas Colaborán en MVM Studios